Ada Jonuse has always believed in empowering underrepresented minorities and communities. She spent nearly a decade in politics, striving to impact the world positively. While working in the European Parliament and overseeing international ICT and entrepreneurship events, she recognized the power and potential of technology to change the future.
After discovering blockchain technology in 2017, Ada immediately became fascinated by the concept of true data ownership. She identified opportunities for digital ownership and open Metaverses to become the backbone of a universal basic income, in which people creating content online could actually be paid for their work and co-own the biggest companies in the world.
Not content to simply watch others build the future, she exited a full-time role in politics to pursue her dream of launching a startup to take advantage of blockchain's potential. She created Lympo, a startup aimed at health data monetization. It incentivized people to provide their health data and, at the same time, earn tokens the healthier they became. In 2020, Lympo was sold to blockchain powerhouse Animoca Brands, and she oversaw its pivot into the NFT space. This company is now building a sports NFT ecosystem with world-famous athletes and sports clubs' IP rights.
"I hope to be able to tell my grandchildren that I was part of the internet revolution that led us to a much fairer, participative and more secure internet economy," Ada remarks.
Added to her resumé, Ada was named Lithuania's 2018 Women Technology Leader of the Year and awarded the New Europe 100 emerging European tech star award in 2017. With her mission and efforts to date, her grandchildren will be proud.
To the metaverse and beyond
In 2021, Ada became COO of The Blockchain Centre. This blockchain advisory firm helps companies launch their journey into the web3 space, releasing a token, launching an NFT-based product, and curating a Metaverse presence. She is an expert investor jury member at the European Union's Innovation Council and various national tech investment vehicles and serves as a mentor in multiple blockchain-related accelerators and funds.
Through the Blockchain Centre, Ada is helping shape human interaction's future. Decentralization, technology and creativity are the main layers of trust that define human interaction. The blockchain adds transparency and collaboration.
She then worked with tech startups in the USA and founded W@Tech, a network for women professionals. Her passion is undoubtedly working with great people and women on meaningful projects.
She feels that people should be rewarded and compensated for their data in the blockchain. Decentralized apps (dApps), decentralized browsers and open Metaverses may be slow in adoption rates, but their role in redefining the future of the internet is no less significant. The three features of the open Metaverse are openness, connectivity, and interoperability. For a truly decentralized future and open internet economy for all, it is critical to build those into the core of web3, the infrastructure for open Metaverses.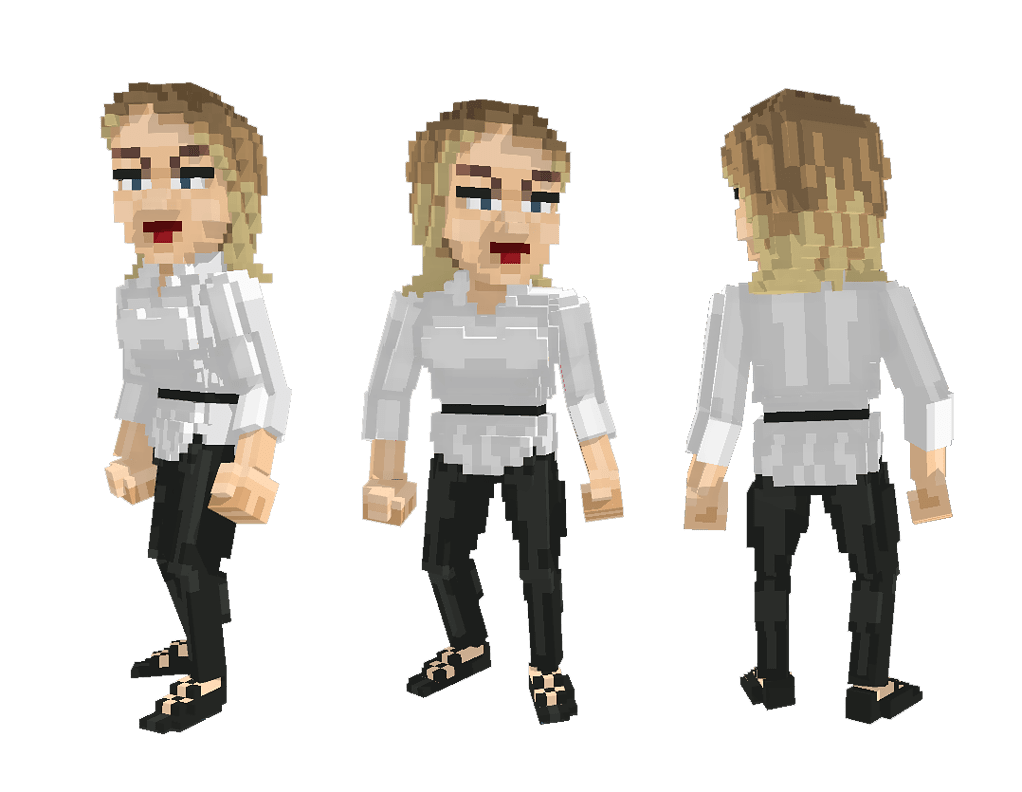 "I see decentralized Metaverses becoming the biggest players in the internet economy," Ada shared about the limitless opportunities presented by the Metaverse and web3. "As these are developed to enable digital ownership, this will mean a real income source for creators: that means everyone creating online content. That would revolutionize the way we work. Fully transitioning to the creators' economy will allow more people to work online, remotely, independently, and following their real passion."
She believes we will spend as much – or even more – time in the various Metaverses than people already spend online now. According to Ada, the business models behind these Metaverses and their data protection regimes will redefine online experiences. She hopes that open Metaverses in the future will triumph to ensure fairer and more secure products and businesses.
Bridging divides
Asking for her thoughts on obstacles to mass adoption of web3 and the Metaverse, Ada finds that the biggest challenge is "the digital divide. We need better infrastructure and ways to enable internet access to a big part of the world. But that is not enough. We need real education opportunities so everyone can benefit from this new internet. Right now, only a small, rather homogenous group of people work in the blockchain space. This needs to change rapidly to win the open Metaverse race."
To lead women from the fringe to the frontier, Ada says we need to empower other female leaders to thrive. Her advice for this: "Stop questioning yourself; start acting. There will never be an ideal moment when you feel ready. No one feels ready until they actually do things."
She continues: "It is impossible to reach a goal you cannot imagine. The first step towards a great achievement has to happen in your mind; this is often the most difficult step. Once women and girls realise they can be whoever they want to be, we will see a massive change. Diversity is good for everyone, proving that diverse teams contribute to a better business outcome."
How does society begin that process? The fundamental building block, Ada believes, is curiosity. "I did a lot of things. I'm curious about many things. There are many more things still to do. This drives me forward in learning about new things. Everyone needs curiosity."